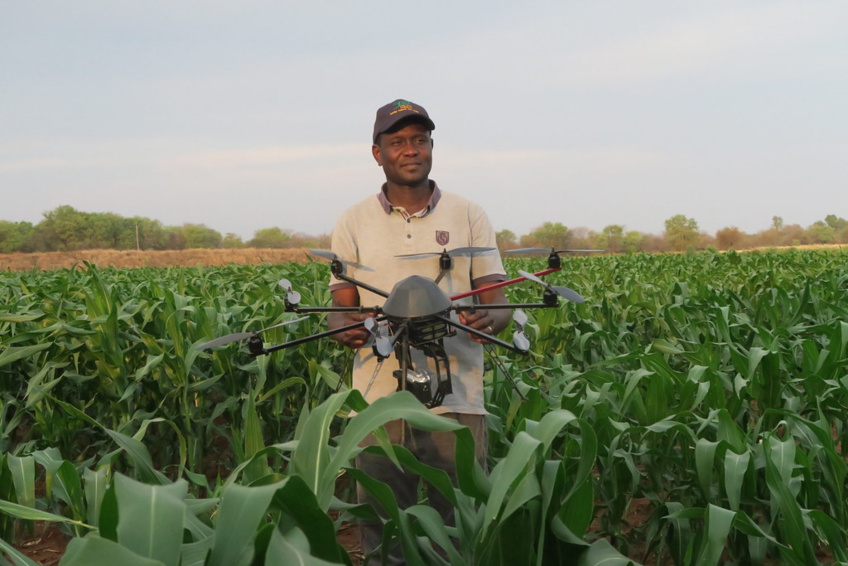 The following is narrated by Nobukhosi Ndlovu, the Founder and Managing Director of Nutrie Foods.

My parents were farmers who also owned a grocery store and a trucking company, so I grew up in an entrepreneurial family. In a country like Zimbabwe, where 4.1 million people face food insecurity and 49 percent of the population lives in extreme poverty, this is no small feat.

My mother, like many rural women farmers in Zimbabwe, grew peanuts but didn't have a market for them. Growing peanuts was difficult work because they became contaminated with mould due to a lack of proper storage facilities.

Inspired by my childhood experiences and a desire to make a positive difference in the world, I set out to create a business that would benefit both myself and others. That is how Nutrie Foods came to be.

I founded Nutrie Foods to provide healthy food while also giving back to the community by providing a fair-trade market for the produce of female farmers.

Peanut butter, mixed fruit jam, salted corn, roasted corn, chilli corn, and marmalade are all produced by Nutrie Foods. It also packs honey, sugar beans, soy chunks, and Malawian rice from Kilombero.

High-quality food production is as important to me as promoting female economic empowerment. Not only is it critical to achieving women's rights and gender equality, but it is also beneficial to any economy, particularly Zimbabwe's.

According to the United Nations, economic empowerment for women increases productivity, economic diversification, and income equality.

To help female farmers, we do the following: • Purchase produce from rural women farmers who rely on farming as their primary source of income.
Teach rural women farmers proper farming methods and agricultural practices.

Provide women farmers with seeds and fertiliser to boost production.

Provide a consistent and predictable market for farmers' produce at a reasonable price.

Help to sustain employment and create new jobs.
Nutrie Foods began with just eight employees; today, we employ 48 Zimbabweans and create jobs in other African countries through produce importation.

But our path has not been easy.

Access to Financing: A Challenge for African Entrepreneurs
One of the most difficult challenges I faced as a young entrepreneur when launching Nutrie Foods was obtaining funding.

I received startup funding from local microfinance institutions, and Nutrie Foods began operations in 2013 in a small, rented warehouse. I played every role in the company at first, but I knew my efforts would be rewarded in the end.

I had to compete with larger brands, as many African startups do, but as I persisted, major retailers began to sell my products in their stores. It gives me great joy to see the hard work of female farmers in my home country now on the shelves of major African retail stores and wholesalers. Knowing that the ingredients in my products are sourced from farmers like my mother motivates me to continue growing.

We were ready to dive into obtaining the certifications required to export Nutrie Foods products once our products were officially sold in large corporate stores.
But then the pandemic struck.

COVID-19 Pandemic
The COVID-19 pandemic posed numerous challenges to our company. Despite the fact that most businesses were closing, we were able to remain open by qualifying as an essential service. Nonetheless, due to the lockdown, our working hours were restricted, and we had to reduce production.

The U.S. African Development Foundation (USADF) partners with Herbalife Nutrition through its Nutrition for Zero Hunger (NFZH) initiative to support African social entrepreneurs through the Food and Nutrition Stars program.

With the help of NFZH, I was awarded a grant from the USADF, along with four other African social entrepreneurs. The FANS grant enabled Nutrie Foods to purchase a van to safely transport employees to work. It assisted us in limiting our employees' exposure to COVID-19, lowering transportation costs, and increasing productivity. Our employees' safety and happiness are of the utmost importance, and motivated employees produce better results.

However, not all of the changes brought about by COVID-19 have been negative. Consumer behavior was influenced by the pandemic. Many people have attempted to eat healthier, and this increased health consciousness has resulted in increased honey sales. People are also purchasing Nutrie peanut butter to substitute for oil in cooking. The trend toward healthier eating is so strong that Nutrie Foods is considering adding more nutritious grains, such as finger millet, to our product line.

Our exportation plans had been put on hold for a while, but we are now ready to resume them. We have a growing list of potential markets for our natural products, but we plan to start with our African neighbors. Our goal is to provide nutritious foods to neighboring African countries while also helping to alleviate food insecurity in the region.

I'm excited about the future and constantly return to this mantra to remind myself that if I keep working hard, the sky is the limit:

"Limitation is only a belief, but if practiced daily, it can become a reality."