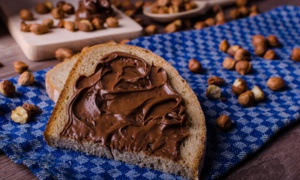 Dailycsr.com – 08 July 2015 – The huge quantity of shells of various nuts, rejected by various factories, take refuge as landfills every year. However, there are very few innovative projects that think of using the waste factory outlets as "valuable resource(s)".
The company of Ferrero can be termed as the "largest chocolate producer" on a global scale, has plans, whereby they "particularly" use the shells of hazelnuts. It is an Italian company which seems to the "biggest" hazelnut buyer in the world, which uses almost twenty five percent of the world's hazelnut supply. The said hazelnuts are used to manufacture "Nutella spread", whereby the annual production quantity amounts to "180m kg", informs "the Italian Trade Agency".
Ferrero is planning to create "natural wrapping" for chocolates using the shells. In fact, one of Ferrero's project coordinator said:
"We have access to large amounts of residual by-products which we realised could be used constructively".
In collaboration with the company of "Stora Enso", known for its renewable packing products, and PTS, a research institute of Germany, Ferrero is to develop the "EcoPaper" from the shells of hazelnuts. The said project is of "€1.2m (£870m)" wherein fifty percent of it has been funded "by the European Union".
The mill manager of "Stora Enso, Miguel Sánchez informs that one wouldn't be able to tell the difference between a normal cartoon and the ones fabricated from the raw material produced from the hazelnut shells. He mentions that:
"We are still experimenting on the ideal mixture of nutshell fibres in the pulp, but so far it works well for stiffness and bulk. The hazelnut fibres are used in the board's middle layer and have been tested for allergy aspects without any problems."
The said project still remains in its "pre-industrial phase" which is expected to complete by the end of this year. Therefore, customers can expect "to buy chocolate with hazelnuts wrapped in hazelnut board". Moreover Sánchez adds:
"We are even making tests with cocoa skin as a raw material for fibre in pulp, but that is still in a very early stage."
Similar attempts are being made by "the technology firm NEC", which is situated in Japan. The NEC firm is to make "a durable bioplastic" from the shells of cashew nuts. Nevertheless, researches are also on to discover "non-edible" raw bio material with which durable bioplastics can be fabricated because more and more food is becoming scarce, as there are more mouth to feed that the available agricultural lands could produce food.
Cashew nuts' "principle component" being the cellulose, is what has caught the attention of NEC. The resource is abundant as the global annual supply rate of cashew nuts reach "80bn tones; whereas in comparison the supply of starch amounts to "1.4bn tones" per year.
In spite of being still in "laboratory stage", the bioplastic show strong resistance to water and heat, likewise "it can be used for electronic devices". In Dr Masatoshi Iji, a NEC's product development research fellow is of the opinion that the said bio-plastic can even be used:
"…to make the casings for computers, petrol pumps and in car interiors."
Moreover, he adds:
"The consumption energy of its production is about half when compared with current plastics for durable products and therefore, when it replaces them, a large amount of energy and CO2 generation will be reduced (more than 10m tonnes of CO2)."
References:
http://www.theguardian.com/sustainable-business/2015/apr/21/ferrero-packaging-nutella-nutshell-biomass-biofuel