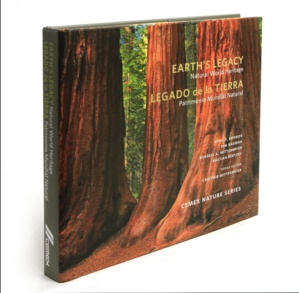 Dailycsr.com – 11 December 2015 – CEMEX, S.A.B. de C.V. has come up with its third edition of "Nature Series", namely "Earth's Legacy: Natural World Heritage", whereby the release of the same has been announced on 8
th
December 2015.
According to BusinessWire, Earth's Legacy is an "insightful and deeply informative series" as it bases itself on the much celebrated "Conservation Book Series" of CEMEX that is spread in twenty volumes and continues to increase the value of CEMEX's tradition over "more than two-decade". However, the new edition is a combination of "splendid photography with expressive prose" which helps the reader to connect and comprehend better the concerns related to "the conservation of our planet's culturally arresting and naturally diverse World Heritage sites".
It has been more than twenty years now that CEMEX has been involved in working with some of the "world's most prestigious and dedicated conservation organizations", pushing towards conservational awareness through its "provocative books" that stress on the "need to preserve and protect our environment" through illustrations. Moreover, the third edition of Earth Legacy has been published by CEMEX in collaboration with "the United Nations Educational, Scientific and Cultural Organization (UNESCO), the International Union for Conservation of Nature (IUCN), Conservation International, and The WILD Foundation".
UNESCO has succeeded in promoting "international cooperation" towards protecting the "exceptional cultural and natural value of World Heritage sites" for the up-coming generations through its "World Heritage Convention". It has been an attempt to prevent a repetition of unfortunate event that took place with the "seven wonders of the ancient world", so that they can be "conserved for all time".
Moreover, BusinessWire reports:
"'Earth's Legacy: Natural World Heritage' captures the spectacular diversity and beauty of these outstanding places on our planet. Through evocative writing and unforgettable photography, it provides a magnificent, comprehensive overview of these sites' aesthetic, natural, and cultural value, coupled with their remarkable geodiversity, ecological processes, and biodiversity. It further highlights the sad reality that many of these irreplaceable sites are under enormous risk and require greater protection if humanity is to preserve the world's natural heritage for the future".
CEMEX occupies a place among the leading industry "companies in areas of environmental protection and land conservation", whereby the need for protecting the "outstanding universal value of World Heritage sites" is not foreign to CEMEX. Consequently, CEMEX has committed itself in spreading awareness for the natural values of World Heritage sites that "nothing" can "impinge their settings and buffer zones".
Likewise, CEMEX helps to support in creating a cultural value of appreciating and respecting nature "among its stakeholders" while the same has been extended towards the global community. Furthermore, CEMEX works with "relevant international organizations, responsible local authorities, corresponding statutory bodies and regulators" to bring about the regulatory measures so as to protect the sites and improve the "access and amenity" to wherever possible in order to enhance security and conservation.
References:
http://www.businesswire.com/