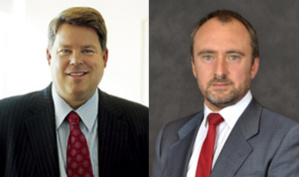 Robert A. Bartell (left) and Yann Magnan (right)
Duff & Phelps is known for its "give and take" corporate culture, is corporate finance such a demanding job?

Robert A. Bartell: Our culture is really about collaboration, it's also a vision and a quest to be global and not recognize silos within organizations that can creep up. It's almost considering things borderless as a global platform. I do think that any company can 'talk the talk,' meaning talk about team work and collaboration, but Duff & Phelps has encouraged people to communicate, collaborate, and it compensates people that way. The spirit of what we are trying to accomplish is to have a company where people really want to work together, and they want to really put the client first. The words collaborative, team work and transparency are really important at Duff & Phelps.

Yann Magnan: Absolutely, the ability to work together is key. Bringing the best expertise and experience to our clients is key as well. Then, we need to help and develop our people in that prospect, and to make sure that our people are trained to the highest level. We want to be the elite of advisory firms, especially in corporate finance. Our job is demanding because our clients expect us to be "best in class" players. They expect us to bring the best expertise and the best answers to their concerns.

Robert A. Bartell: One reason as to why it's demanding is that we live in a very competitive world and there is no shortage of financial corporate advisors, banking and valuation firms. The playground is fiercely competitive, where only the cream rises to the top. The clients expect the best, i.e. technical experts and who have the highest standard of professionalism, who can protect confidentiality, but also who can be pragmatic. There are a lot of variables in transactions and structuring deals and in evaluating alternatives. Combining rigorous technical analysis with a thoughtful, pragmatic, client approach is essential.

What does your results-driven approach of strategic advisory tell us about your clients? Who are they and what do they especially expect from Duff & Phelps?

Robert A. Bartell: We have a broad array of clients. The primary clients of Duff & Phelps include large corporates, private equity and hedge funds, as well as family offices and wealthy individuals. They are successful enterprises and results-oriented. One of the things that differentiates Duff & Phelps from the rest is the experience and the caliber of our managing directors. Our integrity is more important to us than profits. Doing the right thing, telling the truth and providing advice independent of our potential fee outcome is real integrity. Some of the largest clients in the firm, have been our clients for 30+ years, because they know we're a long-term partner.

Yann Magnan: Within these organizations that Bob mentioned, our clients are typically C-level executives and board members; you can imagine how demanding they can be. They are constantly under pressure to make the right decisions and they expect us to be able to help them making these decisions.

M&A and valuation services are closely imbricated disciplines. How do you delineate your respective spheres of operation? From an organizational point of view, is there a kind of porosity between these practices?

Robert A. Bartell: One of our main competitive advantages is that we are global valuation and M&A advisors. The world is full of pure play M&A advisors and appraisal firms, and Duff & Phelps brings both to the table and the two constantly intersect. The cornerstone of any M&A engagement is valuation, and the three pillars of Duff & Phelps include; we measure, we monitor and maximize value. Measurement and monitoring could be in valuation, and maximizing is included in advising as an M&A banker, raising capital or assisting in a restructuring.

Yann Magnan: Concerning complementarity, for instance, if I am asked by a client in France to perform a valuation related to a transaction and I don't have the specific transaction or opinion expertise, then I'll ask Bob if he has someone in his group to work with me to make sure that we will bring the best expertise to the client. That's the way we operate at Duff & Phelps on a day-to-day basis.

Robert A. Bartell: There is a good example on how we work together. Yann has a very large valuation historical client in France looking to make an acquisition of a U.S entity under Chapter 11 and our restructuring and M&A practice in the U.S. is directly involved in advice and structuring the buy-side transaction for our French valuation client. Even in China, we do a number of going private fairness opinions, and these are companies that originated on the valuation side of our business. What drives that? Our compensation system applauds and encourages this working relationship. Managing directors and partners of the firm are incentivized by being part of one global firm. Our compensation system is about revenues and about clients, not about geography or a specific service only.

Yann Magnan: In our business, it's much easier to expand the relationship with an existing client, than trying to develop one with a new client. Being capable of working with our existing clients on various services and various geographies is a win for our clients and for our people. The team in Paris team is always excited to work with colleagues from other parts of the world because it's a way for them to learn more. It's a benefit to all of us.

What is the so-called "transaction continuum" you deal with? Does it mean Duff & Phelps aspires to become a single point of contact for corporate finance issues?

Robert A. Bartell: Most organizations aspire to grow and we have a broad array of services that can assist them from the front end to the exit. That may be financial due diligence, financial modeling, structuring, to raise capital, or they may need us to be a buy-side advisor. Sometimes there are litigations and disputes for the transactions.

The transaction continuum for us is having a broad array of services focused on helping our clients grow. The clients do like working with one firm and consolidating their partnerships. This protects confidentiality, while allowing them to deal with a core group of professionals who are invested and emotionally attached to our clients' success. They can call any managing director at any time and so they can bring the right subject matter expert to the table.

Financial players face growing regulations across many sectors and practices. How do you deal with the increasingly complex requirements it leads to?

Yann Magnan: The regulations and the complexity of the financial world is at the basis of what we do and the services that we provide to our clients. It is our mission to deal with the increasingly complex requirements, all the time. We have industry experts and we are organized within 5 or 6 industries. Our MDs and consultants have significant expertise in each of these industries. That's key for our clients. We also maintain strong technical expertise. Our people are capable of valuing companies, real estate assets, fixed assets, intangible assets, financial instruments, CDOs, CLOs, whatever you can think of.

Robert A. Bartell: Moreover, it's important for us to preserve our independence and to avoid and manage conflict of interest. We have an internal process, which is efficient and transparent with very formal engagement acceptance processes. In this world where confidentiality is critical, that is the front end of our internal processes. Pulling from our many subject matter experts, we are able to work with different scenarios: do we need our IP expert involved, our real estate expert, our 'going private' expert? The matter in which we are involved will be upfront from the beginning. We also live in a very highly regulated world where transparency is crucial. So the way we conduct ourselves and manage our internal processes is something critical.

What about restructuring services in a post-crisis world? Do you notice some changes in how restructuring professionals do the job?

Robert A. Bartell: This is a trend we have seen after the 2008-2010 financial crisis. There is definitely an awareness within the financial community, whether you are a creditor, lender or equity owner. If there is a financial dilemma within a company and they are facing insolvency, the stakeholder increasingly tries to come up with a consensual solution that is in the best interest of the company. That involves negotiation, but also being financially sophisticated about the alternative options available to a company and the financial claimants. In looking at 2013 to 2015, there's been a decline in the number of insolvencies and bankruptcies, because the economies in most places have been performing quite well. But there are still some pockets that are weaker than others. We are seeing some bankruptcy activity in the energy and oil sector, for example.

Now that the company is becoming a leader within multiple industry niches, how is Duff & Phelps shaping its future?

Yann Magnan: If we take a look at the current trend, and especially because of what we mentioned earlier – good governance, transparency, complexity of decisions – these are strong and secular trends. We are now a very robust company and we attract more and more talents interested in these areas. We see it every day; people with strong skills approaching us and willing to work with our clients and develop new sets of services. I'm very optimistic for the future.

Robert A. Bartell: I'm quite optimistic as well. There are a couple of things that makes us quite excited. One is the great continuity and longevity of many of our managing directors. We are also bringing in new managing directors from other firms. Our foundation is rooted within our people, who really want to be here. They love the firm and I use the word "love" intentionally. They are passionate about Duff & Phelps and what it stands for. Secondly, our equity partners - led by the Carlyle Group - are very much focused on helping us achieve growth through acquisitions, geographical expansion and new product introductions. We have access to their industry experts, their balance sheet and their professional network, which is a great competitive advantage for Duff & Phelps.
It also goes back to culture and compensation. We are a performance-driven organization; people want to make money and we encourage them to succeed financially by achieving great results, because we have a mission to succeed and win. Our peers and competitors are now calling Duff & Phelps so it's quite an exciting time.

In very few words, how would you both describe Duff & Phelps' DNA?

Yann Magnan: To name just a few – I would say, excellence, ethics and 'powering sound decisions,' which is our tagline.

Robert A. Bartell: That is my favorite question and the answer would still be collaboration, dedication and excellence.