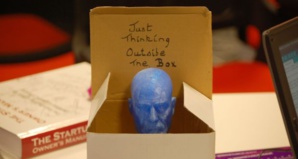 Dailycsr.com – 11 November 2015 – Science Hack Day at Dublin organised by the University College, displayed novel ideas which encouraged people to "hack" their dreams and ideas and carve them into reality. Likewise, some of the novel ideas presented at the event were:
"A walk-through laser maze; an automatic feeder for calves; a low-cost piece of kit to take medical measurements; a radio-controlled car that can build 3D models of its surroundings".
The UCD's research engineer, Dr David McKeown, who is the organiser of the show, explained:
"It is a 36-hour hackathon where people make things from scratch, they start with nothing and end up with something new and fun".
"It's about hacking science, either by getting your hands dirty with hardware or playing with data to come up with new insights and creations."
It is the fourth year of hackathon, an annual event that focuses on "fun" activities and fabricates "a social environment". People of eighteen and above are welcome to team up and work. It about those who "are curious or interested in making can work together". While, McKeown adds:
"It's not just for scientists, we need engineers and artists and designers, and this year we will have a poet in residence [Kate Dempsey]."
In order to enter the event, people post their "ideas for hacks on the websire" and present them through team work in the show, whereby "turning the ideas into reality, or at least a partial reality".
Interestingly, many novel items were featured at the event which included trousers with drum pads, "a self-playing xylophone", a "neat visualisation and analysis tool for air pollution", a "concentration box" which opened through a chemistry calculation, and an "internet of toast" "toaster that could let you control the degree of toastiness from your phone".
However, this year the show introduced "a bursary" which helped the participants in various ways like helping in "travel expenses" or with childcare facilities. In McKeown's words:
"The hackathon itself is free and we feed everyone, but people can still have costs and we wanted to make sure those wouldn't stand in the way," says McKeown.
The "global director of Science Hack Day", Ariel Waldman, will be present at the event to judge the new "creations" at Dublin, whereby making Ireland one of the twenty countries wherein "Science Hack Days are organised". Waldman remarks:
"Science Hack Day's mission is just to get excited and make things with science. This can be something silly, it can be something serious. We don't really mind which direction you want to go with something – it's just about mashing up different topics, mediums and people to explore and create new things".
"It has been amazing to watch it grow."
References:
www.irishtimes.com