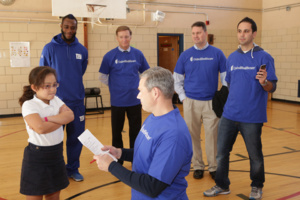 Dailycsr.com – 10 November 2015 – Dreambuilders program" initiated by the Giants Dominique Rodgers-Cromartie's" of New York, is about "Blessings in a Backpack" and UnitedHealthcare's attempt to serve "healthy meals" to two hundred fifty children who live in "PS 15 in Manhattan, and PS 502 and PS 102 in Brooklyn" on a weekly basis for a period of an entire year.
UnitedHealthcare and Dreambuilders together have begun this initiative for the second year now whereby they organise "food for children" which is accompanied by various fun and "healthy" activities "for students at PS 15". Blender bikers were handled by the students and using that they made "healthy smoothies for Rodgers-Cromartie to taste-test".
Moreover, Rodgers-Cromartie also gave the children a session of "football-style warm-ups" and finally got playing football with them along with teaching the kids about importance of being physically active and staying healthy". Rodgers-Cromartie has begun the initiative in the year of 2014, whereby he states:
"Access to healthy foods and staying active are critical to helping kids reach their full potential. Through our work with Blessings in a Backpack and UnitedHealthcare, children at these three schools will continue to receive bags of food they can eat over the weekend that will give them the energy they need to be kids."
While, the chief executive officer of New York's UnitedHealthcare, Michael McGuire remarked:
"Programs such as Dreambuilders help address a significant need in our communities – giving children access to healthy food. We're grateful for the opportunity to partner with Dreambuilders and Blessings in a Backpack to help children develop a lifelong commitment to good health."
Statistical data, collected by "New York City Coalition Against Hunger", show that almost "500,000" children from the year of "2011 to 2013" belonged to the family wherein there was no "adequate food supply". That is to say every "one in four" was a victim of the same scenario. Blessings in a Backpack programme's chief executive officer Brooke Wiseman said:
"It is through the generous support of organizations like Dreambuilders and UnitedHealthcare that we can provide backpacks of food to children so they can have food they need during those times when free or reduced-priced school lunches are not available".
While BusinessWire reports:
"As a program under the umbrella of the Dreambuilders Foundation, New York Giants cornerback Dominique Rodgers-Cromartie started his Dreambuilders program to provide essential nutrition to kids in need in New York. The program provides backpacks of healthy foods and snacks for in-need children to take home over the weekends, when they may not otherwise have access to nutritious meals. His program also will support St. Jude's Research Hospital, and its efforts to find cures and save children with cancer and other life-threatening diseases".
References:
www.businesswire.com