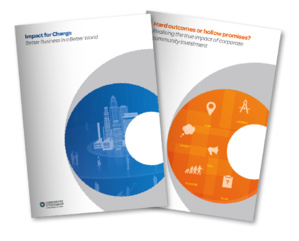 Dailycsr.com – 13 June 2016 – Corporate Citizenship launched the "Impact for Change - Better Business in a Better World" programme for helping any company, irrespective of its scale and country of origin, to evaluate, "improve" and "effectively communicate" their respective social or environmental impact to the world.

In the present times of growing complexity between the society and business organisations, it has become important to map and measure the latter's corporate impacts "across the entire value". One of the reasons behind this is the growing demand of transparency from the customers' side.

The Corporate Citizenship has published a "research report", wherein it shows that only "one fifth of companies" think that their impacts whether social or environmental, are "understood by external audiences", while many other businesses are facing difficulties in communicating their efforts to the world, whereby creating an "impact-knowledge gap".

Ethicalperformance informs that:
"The Impact for Change: Better Business in a Better World report provides a solution to companies that want to close this gap through mapping, measuring and taking action on their most important social, economic and environmental impacts".

Moreover, the report comes with a video which features "Diageo and Civicus", in an attempt to capture "insights and developments" taken place under the "impact for change" in that particular area.

Owing to the 'impact-knowledge gap', the annual cycle of spending billions by the companies "on causes and in communities" goes little noticed by the majority of the society, as they remain oblivious to the "difference". The latest research of Corporate Citizenship takes into consideration, over "130 sustainability and corporate responsibility" practitioners' case studies, and come up with a gapping communication wound between the aspirations of the corporate and the comprehension of the society. Here are some highlights from the report:
"Three quarters of companies surveyed said they aspire to achieve long-term impact with their corporate community investment;
"But less than one quarter currently feel that their organisation is delivering on the promise;
"This is because less than one in four are measuring their long-term impacts on the community and benefits to the business".