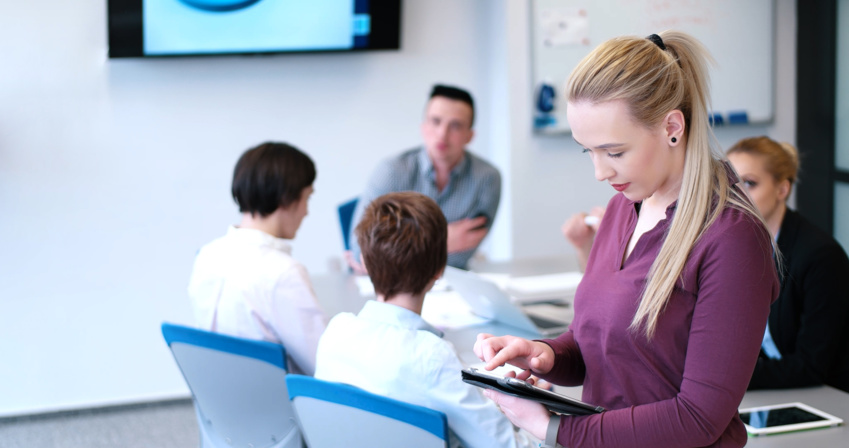 We have come a long way since the bulky, reel-wound circuitry of the 50s and 60s. In the modern era, we wrestle with the possibilities of intelligent, thinking machines, capable of learning at bewildering speeds. The omnipresent echo of telecommunication technology now follows us to sleep, and greets us when we wake.

The assimilation of digital technologies into the fabric of everyday life has affected how we work, shop, socialise, and even how we learn.

Society was already going through monumental transformations, but the coronavirus crisis has made it clearer than ever that existing technologies are not being leveraged symmetrically across the higher education landscape. This has had a direct effect on individual institutions abilities to cope with the demands of the pandemic, and suggests that the future of higher education might be closer than we think.
Facing towards the future
Santiago Iñiguez de Onzoño is the president of IE University, which is recognised amongst the top 25 worldwide in the Times Higher Education Global University Employability.
Following the crisis, IE University announced the launch of
Liquid Learning
, a unique training model that aims to transform the education landscape.
The institution will commence its liquid education model in all undergraduate, postgraduate, and executive education programs from September.
"We have experienced that blending methodologies, and delivering hybrid formats, both conventional classroom-based sessions with high-quality virtual sessions, synchronous and asynchronous, fit better the circumstances of candidates and produce superior learning results," Iñiguez explained via video call.
IE University has 20 years of experience in online training and was a pioneer in Europe with the launch of its first online masters.
"This new format will provide flexibility to students and reinforce active and personalised learning that focuses on solving real world problems," he says.
IE University has redesigned all courses with new methodologies, content, and academic materials to adapt the programs to the new model. The institution is also redesigning its facilities and equipping classrooms with technological solutions that enhance interaction. If Iñiguez and his colleagues are correct, the future of higher education might already be here.
At HEC Paris, adaptations towards the digital presentation of curricula were made to cope with the uncertainty of the early phase of the national outbreak. Faculty at the school are convinced that the results have been very compelling.
"Traditional universities will see much stronger competition from online programs in the future, much due to the lockdown,"
says
Thomas Astrebo, a specialist in online learning, and professor of economics and decision sciences at HEC Paris. He is convinced that online learning "will be the new normal" though social interactions amongst students will continue to be important, even after the crisis.
Professor Anne Michaut, who is associate dean for education track and pedagogy at HEC Paris, believes that the crisis is a truly transformative moment.
"One thing is indisputable: this period is allowing us to make incredible progress in mastering technologies that were not yet widespread amongst faculty members and program managers," Michaut explains.
She believes that after the crisis management period is over, institutions will have a unique opportunity to review the whole learning ecosystem and to rethink the pedagogical objectives of each tool in the learning journey.
However, there are still those who are cynical about the potential of technology in education. They maintain that even good online learning is a poor substitute for classroom-based teaching.
Susanna Loeb of Brown University
claims
that on average, students fare worse working online, especially those with less strong academic backgrounds. While online courses can be useful for students during lockdowns, she reckons that they are not ideal for most people, and that long periods of time spent away from physical schools will probably lead to educational outcomes suffering.
Proponents of the technology revolution, such as IE University's Santiago Iñiguez, could not disagree more.
"Our experience is that hybrid formats produce better results than just traditional classroom-based forms of teaching...The world, not just education, has already become virtual," he argues.
Where certain innovators are going to gain an early-mover advantage, there could still be those packaging their inflexibility as traditionalism. On the other hand, there are even those who argue that four-year resident undergraduate courses, while being right for society for the past 200 years or so, are no longer the correct educational format. As such, we will soon see a revolt within course timetables.
"We will see more shorter courses, more life-long learning, more accelerated degrees, more multiple starts around the year, more blended degrees. The international student market will never return to where it was in 2019,"
says
Sir Anthony Seldon, vice chancellor of the University of Buckingham.
With digital courses and the use of artificial intelligence to more greatly personalise the student experience, curricula can become far more modular in design, allowing for greater flexibility in the routes taken in achieving certification and over what timescale.
AI teaching assistants
will be able to aggregate student 'learning data' and enhance teaching focus, peer grouping, and the accuracy of course delivery based on exactly how each student is comprehending their course work.
Beyond facts and figures
While online-taught classes have the capacity for vastly greater scale and reach in terms of tuition, they do have the potential to lack that human element. For this reason, within hybrid courses it could be necessary to place far more emphasis on emotional guidance and psychological wellbeing during face-to-face interactions.
Conrad Hughes is director of La Grande Boissière, the International School of Geneva in Switzerland. He
believes
that with the advent of digital innovation in teaching, more should be done "to ensure that learning is happening not just through test scores and output but by being more closely connected to the psychological and emotional realities of learners."
The isolation that emerged during the coronavirus crisis has compounded something that we already knew: digital technology and social media make us lonelier, despite making society more interconnected than ever. As we build the foundations for the future of education, we should respond to this facet of the technology, mitigating for the negative effects.
This chimes well with decisions taken some 20 years ago at IMD Business School in Switzerland's Lausanne.
MBA students at the school have the option of an hour-long one-on-one session with a psychotherapist each week as part of an elective course.
"Life here is fast paced...The PDE (Personal Development Elective) is an opportunity for students to really pull out of the bubble and get some perspective to relate to themselves and others. It's an opportunity to switch rhythms from an outward-directed, linear, performance-focused perspective and get practice in slowing down, being reflective and checking in with themselves,"
explains
Janet Hewetson, who runs the program.
After the dust settles on education's technological revolution, the next question to answer could be how best to use human and digital contact to improve psychological outcomes for students.
With technology taking its place in the pedagogical framework, emphasis could soon be placed on the emotional and social contract between teachers and their students. This could lead to more balanced, reflective graduates with a sense of who they are and where they want to go, along with the technical skills and flexibility needed to get them there.