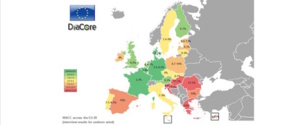 Dailycsr.com – 23 February 2016 – Evaluating the "cost of capital" throughout the regions of European Union, the "DiaCore project" came to the conclusion that the cost varies "from country to country" in a significant manner.
The project has provided with the first ever report that estimated the "onshore wind energy" projects' costs of capital present in all of twenty eight member states of the European Union. The cost of equity and debt put together determine the cost of capital, whereby in the year of 2014 Germany's cost were around six percent while in Slovenia, Greece, Romania, Estonia, Lithuania and Latvia it went up over fifteen percent.
The difference between Germany and Greece's cost varied "1.8 percent" and "12.6 percent" respectively, whereby the "weighted average cost of capital" stayed in between "3.5 to 12 percent". The principal consultant at Ecofys, David de Jager gives an explanation:
"There is a growing gap among EU Member States on the financing of renewable energy project. From the very start of a project, project developers in the EU do not face the same financing conditions. Why does the cost of capital vary so much? Because of the risks for investors: if an investment is risky, the cost of capital increases".
According to the data provided by the project, besides the "generic country risk", the investors face "policy-induced risk" in the renewable energy market which is now becoming one of the main risks. The risk related to policies like "sudden retroactive changes", whereby demonstrating an unstable policy issues lead to an increment of the cost of "renewable energy targets". The Executive Agency for Small and Medium Enterprises, in short EASME, has sponsored for "DiaCore project", while:
"The research was led by Ecofys, Fraunhofer ISI, eclareon, EPU-NTUA, TU Wien and LEI and was based on interviews with more than 110 banks and project developers in the EU".
References:
http://www.ethicalperformance.com/