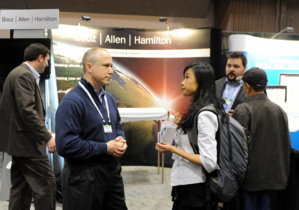 Source: flickr.com; (CC BY 2.0)
Dailycsr.com – 23 June 2019 – Booz Allen shares stories about mobile devices being secured against cyberattacks, altering the experience of taxpayer besides the usage of "bioinformatics to revolutionize healthcare", which are featured in its "2019 Impact Report". Furthermore the report also outlines the company's relation with its clients in "solving the world's most pressing challenges".

The report of Booz Allen talks about its journey from "citizen services to cyber" whereby it enumerates the company's work with commercial as well as government clients in a digital landscape that's transforming the world. Here are the topics featured in the report, as mentioned by Booz Allen Hamilton:
Artificial intelligence in cybersecurity
3-D visualization and deep learning for infrastructure
Hackathons to create new innovations for warfighters and engage the next generation of STEM professionals
Furthermore, the stories shed light on "specific projects" which include "federal agencies undertaking IT modernization" for elevating the public services' quality towards the "citizens, veterans, and others".
Additionally, the report underscores the company's impact on "overarching global challenges" in creating "community resilience" while the environment is subject to change, besides developing tomorrow's workforce especially in the "evolving business and technology environment". In the words of the Executive Vice President of Corporate Affairs, Stephen Labaton:
"Each year, this report describes the extraordinary impact of our work, which is the product of our long consulting heritage, our deep experience with applying new technologies to difficult challenges, and our tight alignment to the missions of our clients. We are proud of these results and the people behind them."
For further information download the "2019 Booz Allen Impact Report" by clicking at the link provided below:
https://www.boozallen.com/e/insight/publication/2019-impact-report.html?origref=&vURL=/impact2019
References:
3blmedia.com