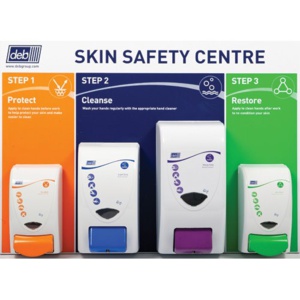 Dailycsr.com – 23 February 2016 – HSE reports that the workers who are exposed to "common workplace materials" like dust, cardboard, grease, detergent, paper, oil, soapy water and solvents, risk their skin damage.
In an attempt to contain the employee's from the potential skin damages caused by the exposure of the above listed materials, Deb introduces a new "Deb Stoko range". The said range of products has been specifically designed to care for "occupational skin" across numerous industry premises.
The Deb Stoko collection features hand cleanser, pre work creams, along with after work creams that restores moisture and takes care of the skin. Likewise, the portfolio of this new range has been crafted in order to "minimise the risks of skin disease and stress" which very commonly manifests in workplaces.
Moreover, Deb Stoko range does not end with its products, the company also organises training for employees as well as employers whereby supporting them with "educational materials" so as to generate interest amid the stakeholders to invest in something that could appear as rudimentary yet is mostly "overlooked among staff and their employers".
References:
http://www.healthandsafetyatwork.com/