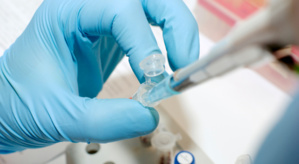 Dell announced the extension of its partnership with
Translational Genomics Research Institute (TGen)
to assist doctors and researchers globally to help, the world's first FDA approved medicine trial for pediatric cancer, expand its reach and impact. The renewed agreement includes an additional funding of $3 million from Dell to support continued collaboration with TGen and support the Neuroblastoma and Medulloblastoma Translational Research Consortium's (NMTRC) expanded pediatric cancer clinical trials in EMEA, starting with locales in Lebanon and France. Dell's contribution towards TGen has crossed an estimated $15 million since 2011.
This $3 million worth grant will allow, TGen access to Dell's technology, to use genomic sequencing to point of diagnosis, and also enable TGen to extend its research, past pediatric cancer and also focus on other rare medical conditions especially the ones affecting children.
Most hospitals lack the time or funding to research pediatric cancer treatments, and this is where TGen's expertise comes to effect. With TGen aiming to reach more of a global target audience, data handling was proving troublesome in itself. It is then, that TGen developed collaboration with Dell, to help coordinate and store genomic sequence data. Next, TGen and Dell furthered their partnership and expanded their support to EMEA.
James Lowey, Vice President of Technology at TGen has said, "Time is of the essence in our line of work so we're constantly undergoing vendor evaluations to try to find the right tool for the job. Dell understands what we're trying to accomplish – not an easy claim in the world of quick-fire genome sequencing – and it has the partnerships and hardware to help us do it".
TGen's extended partnership with Dell would give it a chance to optimize high performance computing infrastructure to assist researchers to analyze and store massive amounts of genetic data in a fast and reliable manner. Till now, TGen has been capable of increasing the number of computational hours by 376% and reduce time taken to analyze a patient's molecular data – a process that used to take ten days – to six hours. These changes will now be duplicated in EMEA, as the infrastructure responsibly handles the increased number of patients across the new sites.
Aongus Hegarty, the President of Dell EMEA has issued a statement saying, "We are proud to help TGen in EMEA gain the speed and efficiency it needs to ensure that more children can benefit from timely, local and effective treatment. Pediatric cancer is an issue that affects too many lives and we are committed to delivering benchmark solutions and support to ensure that the team at TGen is able to focus on this most important of work".
About Dell
Dell Inc. is one of the world's leading tech company focused on end-to-end IT solutions especially for healthcare worldwide. Dell helps healthcare firms to simplify administration, manage patient care, to deliver personalized medicine and transition from episodic care to wellness management. Dell has been working with TGen since 2011 to accelerate research on treatments for pediatric cancer. Learn more at
http://www.dell.com/childrenscancercare
or follow @DellHealth on Twitter.
About TGen
Based in Phoenix, Arizona, Translational Genomics Research Institute (TGen) is a non-profit organization dedicated to groundbreaking research. TGen researchers and scientists work tirelessly to unravel genetic causes to rare and complex diseases in adults and children. TGen works in collaboration with medicinal and scientific communities worldwide to contribute extensively towards effectiveness and efficiency of the translational process.
Visit
www.tgen.org
for more information on the work that's been done by TGen to improve health worldwide.
References:
http://www.businesswire.com/news/home/20150611005022/en#.VXzz3_mqqko