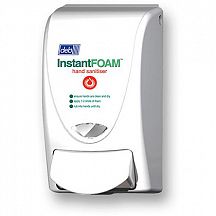 Dailycsr.com – 08 April 2016 - Deb Group presents world's first ever sanitizer that if entirely "virucidal, bactericidal and yeasticidal". The company came up with this solution and launched the same under the name of "Deb InstantFOAM Complete".
The said formula is a unique combination of "dye-free" and perfumed substance which has been created in a manner so that it can be used "without water". Likewise, Deb InstantFOAM Complete, as the name suggests, proves to be a "complete" hand sanitizing solution which combines "its highly effective broad spectrum biocidal efficacy with safety and user preference".
Within the new range of "Deb Stoko", Deb InstantFOAM Complete has reported to kill as many as "99.999%" of several "common germs" and these, it does in just fifteen seconds, while Deb InstantFOAM Complete's "non-specific biocidal action" takes care of the hand, ensuring no risk of "antimicrobial resistance" take place.
The said product satisfies the "highest" European levels of "microbiological standards" that fall under "bactericidal (EN1500), virucidal, yeasticidal and mycobactericidal activity".
References:
http://www.healthandsafetyatwork.com/