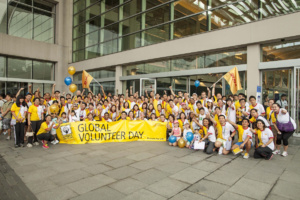 Dailycsr.com – 27 April 2016 – The Deutsche Post DHL Group invites its employees to go around the world to participate in the "Global Volunteer Day (GVD) initiative" taken up by the company and is celebrated on an annual basis.
The employees of DHL volunteer over several days in supporting "social projects" which are organised in collaboration with "non-profit organizations". The GVD project includes all "Deutsche Post DHL Group divisions" spread across the word. The said initiative had gathered "108,000 participants in 117 countries" in the year of 2014, while in the year of 2015 the programme was conducted over a period of ten days.
The volunteers at DHL help in environmental, educational and employment issues in the community besides supporting "disadvantaged people as well as charitable organizations". Likewise, the employees at DHL contribute to its "sustainability strategy" which carries the motto of "Living Responsibility".
The said group is backed by "a dedicated funding instrument". The executive vice president of "Corporate Communications and Corporate Responsibility at Deutsche Post DHL Group", Christof Ehrhart said:
"As a globally operating company, we aim to take on responsibility towards the environment and society throughout all our business operations. This leitmotif is an integral part of Deutsche Post DHL Group's corporate strategy, Strategy 2020. Many of our employees are active throughout the whole year, but during the dedicated period of Global Volunteer Day we see an additional level of commitment from them. Socially engaged employees are not only giving back to the communities in which we conduct business, but also bringing fresh ideas and perspectives back into the company."
References:
http://www.dpdhl.com/