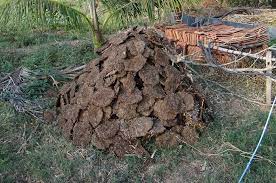 With Enbridge Gas Corporation spotting an opportunity to contribute to Ontario's renewable natural gas program, it went work and got it dung.

Along with the Ontario Waste Management Association (OWMA) and the Blue Water Recycling Association (BRA), Enbridge is celebrating the arrival of Ontario's first carbon negative waste collection truck which runs entirely on renewable natural gas (RNG) derived from cow dung.

Here is how it works:

In southwestern Ontario, cow dung and off-farm organic waste are collected and dumped in large tanks which are called digesters. In the tank, bacteria break down the organic matter to produce biogas. The decomposition in the oxygen-poor environment produces biogas composed of around 60% methane 40% carbon dioxide.

The biogas is then processed which removes carbon dioxide and leaves an RNG that can either be added to the Enbridge gas distribution system or filled in to trucks to power them.

The company has provided funding for the OWMA and has invited members to use RNG in their trucks.

Launched in London, the program brought together many participants including those from BRA's participating townships, Enbridge Gas, and the OWMA.

"The accelerating growth of RNG production in Ontario enables waste industry organizations like BRA to demonstrate leadership in displacing diesel. Early investments in compressed natural gas (CNG) are paying environmental dividends via RNG as a straightforward path for decarbonizing transportation today," said Michele Harradence, President of Enbridge Gas, in a press release.

"We're pleased to support their efforts as we work together to transition Ontario to a clean energy future."

A refuse truck that uses RNG as its fuel is about 50% more cost effective than an electric truck. The price of the fuel is close to that of diesel, with similar performance differences, including in cold weather. This means, with widespread adoption municipalities could see carbon-neutral fleets without sacrificing either performance, reliability, or range.