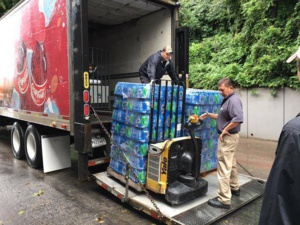 Dailycsr.com – 07 October 2015 – The "Coca-Cola Bottling Co. Consolidated" made a contribution towards the flood victims of the Palmetto state. The devastating effects of the said flood have beaten the "1000-year record level". It is an attempt help the people who were "affected by the storm" in the South Carolina region.
On Sunday, the 4
th
of October 2015, the "CCBCC reached out the South Carolina division" that belongs to the American Red Cross. It has already evening by then. Subsequently, a plan was chalked out that started to gather speed and began coordinating "delivery of more than 43,000 bottles of Dasani" which were taken to the warehouse of Red Cross that is situated on the Clemson Road.
However, further additional deliveries were given out to "NewSpring Church, USC Russell House, Richland Memorial Hospital, Palmetto Baptist and Parkridge Hospital" on Monday, the 5
th
of October 2015. The vice president of South Carolina's market unit, Mark Moore commented:
"The damage is devastating. I have never seen anything like it. Once the City of Columbia released a boil water advisory and many folks did not have access to water at all, we knew water was going to be a huge problem. We are doing what we can to get Dasani supplied to the community as quickly as possible."
At present, the situation of Columbia is such that almost "40,000 homes" are deprived of access to drinking water, while "a boil water advisory" serves the rest of the "375,000 customers". Corporate Affairs' senior vice president, Lauren Steele, remarks on the effort made by the local team, whereby she states:
"At Coca-Cola Consolidated our Company Purpose is to 'Honor God in all We Do'. In times of natural disasters we are blessed to have so many employees going above and beyond the norm to pursue that Purpose. As a company, we want to do what we can to help the South Carolina community."
Given the entire picture, by Monday, the 5
th
of October 2015, CCBCC has "delivered" as many as over "107,520 bottles of Dasani", hoping to lend a hand in the emergency situation that has occurred in Columbia. Moreover, the moment the Coca-Cola branch of Columbia had low stock of Dasani bottles, the employees of CCBCC contacted their "Charlotte branch" and brought in extra "emergency deliveries".
In fact, on the following day, that is Tuesday, the 6
th
of October 2015, there was an additional "26,880 bottles" donated to the "South Carolina Emergency Management Division". While informing about the "Coca-Cola Bottling Co. Consolidated" or CCBCC in short, BusinessWire writes:
"Coca-Cola Bottling Co. Consolidated (CCBCC) is the nation's largest independent Coca-Cola bottler. The Company operates primarily in the Southeast, with corporate offices located in Charlotte, North Carolina. CCBCC stock is traded on the NASDAQ exchange under the symbol COKE".
References:
http://www.businesswire.com