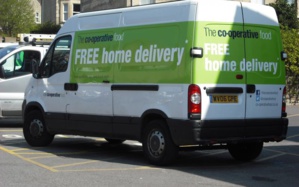 Dailycsr.com – 27 April 2016 – The Co-operative Food Group has been subjected to fine. The amount to be paid is "£20,000". The said company was prosecuted for hitting a senior citizen of eighty eight years old by one of its vehicle which was making some home delivery.
The incident occurred in one of Co-operative Food Group's store located at "Shaftesbury Road, Bath", while the "Bath and North East Somerset Council" conducted the investigation and found Co-operative Food Group guilty of hitting a pedestrian while its vehicle was reversing.
The incident took place sometimes in the month of January 2015. The victim's name is Edward Harris. On the fateful day, he was visiting the shop of Co-operative Food Group, while he was entering the "store from the car park" through the railing gaps, which is a normal way used by all the customers as an entrance and an exit to the store. However, on the day of accident, as Harris was walking past the railings wherein a van was parked by the "parking space", "it started to reverse and hit him, pushing him to the ground".
References:
http://www.healthandsafetyatwork.com/