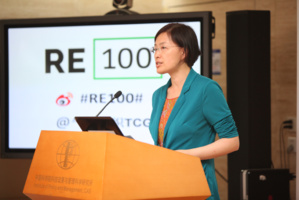 China, the world's second largest emitter of greenhouse gases, has come for with by environmental groups when it announced its highly anticipated strategy of mitigating the effects of climate change.
China has committed to reducing its peak emission of green house gases by around 60%-65% from its 2005 levels, as well as increase, by as much as, 20% non-fossil fuels in its energy mix.
The newly announced commitments are part of its Intended Nationally Determined Contribution (INDC), which every country must provide ahead of the United Nations led Climate Change talks (COP21) scheduled to be held in Paris in December.
Changhua Wu, Greater China Director of The Climate Group, said "China's INDC is a positive boost to the ongoing international climate change process leading to Paris. China's efforts to align its domestic growth agenda and global climate change agenda is a leading example of how a fundamental shift is needed to grow the economy differently."
The Climate Group has reported that China has been investing heavily into clean energy. In fact, it is the world's largest investor of cleaning energy, having spent a humongous $89.5 billion last year. This amount is around 1/3
rd
of the world's total renewables investment.
Historically speaking, China's booming economy has ridden largely on its coal industry. But now that Climate Change and Global Warming are a looming threat, its investment in the renewable energy sector has had an impact on its coal guzzling habit. The National Bureau of Statistics of China has reported that although its total energy consumption has grown, its usage of coal has dropped by 2.9%. 16.9% of its energy is now derived from clean energy sources such as hydro and wind.
"China's plan reflects its firm commitment to address the climate crisis. Already, 40 countries have released their national commitments, showing the growing momentum behind international climate action this year. China is largely motivated by its strong national interests to tackle persistent air pollution problems, limit climate impacts and expand its renewable energy job force," she said in a statement. "More than 3.4 million people in China are already working in the clean energy sector," said Jennifer Morgan, Global Climate Director, Climate Program, World Resources Institute.
China currently emits almost a quarter of the world's greenhouse gases. If countries do not quickly turn to renewable energy sources, the world's temperature is set to rise by a whopping 4 degrees centigrade. As per Janos Pasztor, the U.N.'s assistant secretary general and Ban Ki-moon's chief adviser on climate change, a rise of 2 degrees centigrade in the world's temperature will set off catastrophic effects worldwide.
Although more than 40 countries have submitted their INDCs so far, expects believe bolder targets need to be set. The International Energy Agency has warned that although the INDCs submitted "will have a positive impact on future energy trends, but fall short of the major course correction required to meet the 2 Celsius degrees goal."
"It is clear that China's plan to tackle carbon emissions and build an economy on renewables and clean technology is firmly embedded at the highest level of government. We hope that India, Brazil and others will soon follow and show the required level of ambition," said Mark Kenber, CEO of The Climate Group.
Going by a public survey which was released this money, China's leadership in mitigating the effects of climate change by heavily investing in renewable energy sources has the backing and support of its public. More than 60% of its citizens favour the role played by their country, while only 44% of US citizens and 41% of UK citizens are supportive of their country's contribution to Climate Change.
As per a new study released by the London School of Economics (LSE), China's greenhouse gases could peak by 2025, 5 years earlier than its predicted time frame, thanks to its steady reduction of coal consumptions.
References:
http://www.ipsnews.net/2015/06/china-hailed-as-leader-for-new-climate-plan/