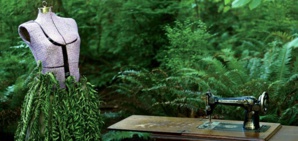 Dailycsr.com – 29 December 2015 – Wood pulp is the raw material for 'viscose and rayon fibers'. These two materials are in wide use in the textile and clothing industry but given the present scenario, the extensive usage of wood pulp is "threatening endangered forests".
Given an approximate figure, on an annual basis, "120 million trees are logged", to meet the fabric requirements, while, one third of the demand is "sourced from ancient and/or endangered forests". The "CanopyStyle initiative" was launched in the month of October 2013, whereby till now, sixty companies have entered into a commitment to "eliminate endangered forests from their fabric supply chains" by the year of 2017.
The trend of CanopyStyle is coming in vogue, urging for a collaboration "between environmental not-for-profit Canopy and brands and retailers", like "H&M, Zara/Inditex, Levi Strauss & Co., Marks & Spencer, EILEEN FISHER, Stella McCartney, G-Star Raw, Arcadia Group, C&A China, and Lindex". Likewise, the damage can be contained and the supply chains can be tailored to be "less destructive". Moreover, sixty "signatories represent a purchasing power of over $85 billion in annual sales".
While, the executive director at Canopy states:
"Protecting the world's endangered forests is quickly becoming the norm for apparel brands and designers. This added momentum is providing critical incentive for more brands and home retailers to join CanopyStyle in 2016. Together we're setting the sustainability bar for viscose producers with the incentive of new customer loyalty and market access.
The thirty five percent of the global textile market is made up of three "viscose producers" who have committed to adopting "endangered forest sourcing policies" within the last two year's time since the campaign's inception. The supply chain of viscose is enduring towards "swift progress". As a result only "ten companies" are in control of the "three-quarters of global production". While, Rycroft adds:
"I'm particularly excited by the strong uptake by brands, the traction we're gaining through the viscose supply chain, and how this work is translating to gains on the ground, in places like Indonesia's rainforests and the Great Bear Rainforest".
Mostly, Canopy will make "two big announcements" regarding forests in the coming year of 2016. In an attempt to protect the Indonesian "Leuser Ecosystem", wherein the only remaining co-habitation of "oragutans, elephants, rhinos and tigers" can be observed, the organisation of Canopy is "working with local partners" besides shaking hands with the "brand partners, NGO allies, First Nations and the Province of British Columbia". The latter partnership of Canopy will finalise "the conservation of Canada's Great Bear Rainforest", a subject of "negotiations" over the past fifteen years.
Furthermore, Canopy works with "its brand and designer partners" to "develop" fabric and combine innovations like the usage of "recycled clothes, straw or sustainably grown bamboo instead of trees".
References:
http://www.sustainablebrands.com/