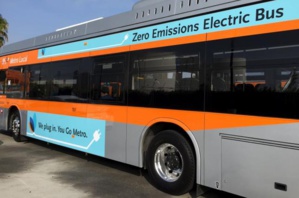 It appears that California has made it a habit demanding for smarter, greener, more efficient technologies. It has done so in the past and is now again pushing for regulations which stipulate that all transit buses have "zero-emissions" features by 2040.
Body
Fifteen years ago, the sunshine state, California, took the bold decision to ease out diesel as a fuel for mass transit buses and replaced it with natural gas. It has again taken the lead in ushering in a mandate which calls for switching to "zero-emission" buses by the year 2040. In the same way, California's Air Resource Board (CARB) marginalised diesel, natural gas, it would appear has the same fate waiting for it.
In response to CARB's call, California Natural Gas Coalition (CNGC), has already expanded the definition of the term "zero-emission vehicles" so as to include not just electric buses but also those powered by "renewable natural gas" such as from decomposing organic matter in landfills or from cow manure.
According to the coalition, CNG offers a reduction of 15%-20% of greenhouse gases, whereas renewable greenhouse gases offers a humongous 90% reduction, when compared with diesel.
"That's going to be a tremendous step forward over where we are today," said Tim Carmichael, president of the California Natural Gas Coalition. The CNGC includes renewable energy heavy weights such as Sempra Energy, Clean Energy Fuels Corp, Westport Innovations Inc., amongst others.
Almost 60% of California's buses run on Compressed Natural Gas (CNG), compared to 17% nationwide. The stakes are definitely high. With roughly 1/7
th
of the nations 67,000 transit buses running on its roads, California is a critical player for both fuel suppliers as well as bus manufacturers.
After a review of available bus technologies, California's Air Resource Board will take a call next year as to when the switchover is going to take place. So far though, its decision to allow anything other than zero emission transit vehicles is unwavering. It has taken this stance keeping in view the state's goal of reducing greenhouse gas emission to 80% below the levels of 1990, by 2050.
Tony Brasil, from CARB was clear when he said, "We are looking at zero emissions where feasible."
One possible impediment though could be the whether these fuel cell buses can meet the rising demand from the State's transit agencies. Currently buses need to be charged for several hours for every 155 miles. So called "fast charging" buses need to stop every 5 minutes for a recharge, after having travelled 30 miles. CNG buses on the other hand need refilling every 300 miles.
Another potential problem is power supply at transit agencies. "If you have a yard with 200 buses, is there enough power in the neighbourhood to run that at this point?" points out Steve Miller, from the California Transit Association's zero emissions bus task force. "We'd like to see that vetted out prior to a regulation going on the books." Also power delivery systems would need to be upgraded to accommodate fleets of electric buses.
Then there is the obvious question of costs, points out critics of this proposed regulation. Buses which run on electrical batteries typically costs $800,000; ones running compressed natural gas costs $525,000, while diesel buses costs less than $500,000. Currently fuel cell buses costs upwards of $1.3 million.
Advocates of electric buses counter this argument by stating that running costs of electric buses are way lower than that of CNG buses. Whereas the fuelling cost for an electric bus is $10,500, for CNG it is $27,000, annually. They also point out that running costs spread over a period of 12 years are much lower for electric buses than those powered by CNG.
This year, CARB has pledged to support the purchase of electric buses by spending $70million.
References:
http://www.reuters.com/article/2015/07/02/us-california-naturalgas-buses-insight-idUSKCN0PC0AV20150702