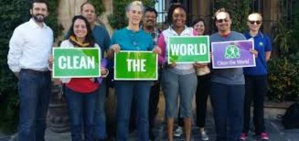 Dailycsr.com – 29 December 2015 – The "Clean the World" team of Caesars had a life time experience in three days of Guatemala trip. The adjective attributed by them when asked to describe their experience was in unison "Incredible". Moreover, the trip also proved beneficial to "thousand Guatemalan(s)".
The first day of visit was spent in the "Chimaltenango community center" of Guatemala, built by "CTW's in-country partner, Children International". The said place treats local children with proper doctor or dentist guidance besides giving access to "the computer lab". Many locals waited in queues before meeting the "Caesars team members" who were "dressed as 'Super Soap' and 'Super Water'".
The team members presented an educational skit, wherein they showed the ways to "conquer the mean germ" while a catchy song taught the kids "to wash their hands". There were five hundred visitors in the show and each of them were given ten bars of soap.
To fight germs and tackle the issue of hygiene and maintain the same, what we generally take for "granted", requires an education which can make all the "difference between life and death for millions" on a global scale. It is to face this very issue Caesars joined "the Clean the World Foundation", whereby the partnership strives to "change lives by distributing recycled and sanitized soap to cities in need around the world".
Within a period of five years, Caesar contributed an amount of "$825,000 to CTW", besides distributing almost "two million bars of soap" and employing the team members on various "distribution trips around the world", whereby they reached Guatemala and visited "community centers and homes in San Lorenzo and Zaragoza".
The Caesar team has distributed soaps to "one thousand families" in Guatemala. The distribution trip forms part of a closed loop system that is initiated by the "Caesars' housekeepers" when by "collect the soap to be recycled and sanitized". While, the executive director at Caesar, Thom Reilly said:
"More than two million bars of partially used hotel soap are thrown away every day in the United States. It's incredibly rewarding for our employees to be involved at the ground level so they can witness firsthand the positive impact access to bar soap and hygiene education can have on families and communities."
Reference:
http://www.sustainablebrands.com/