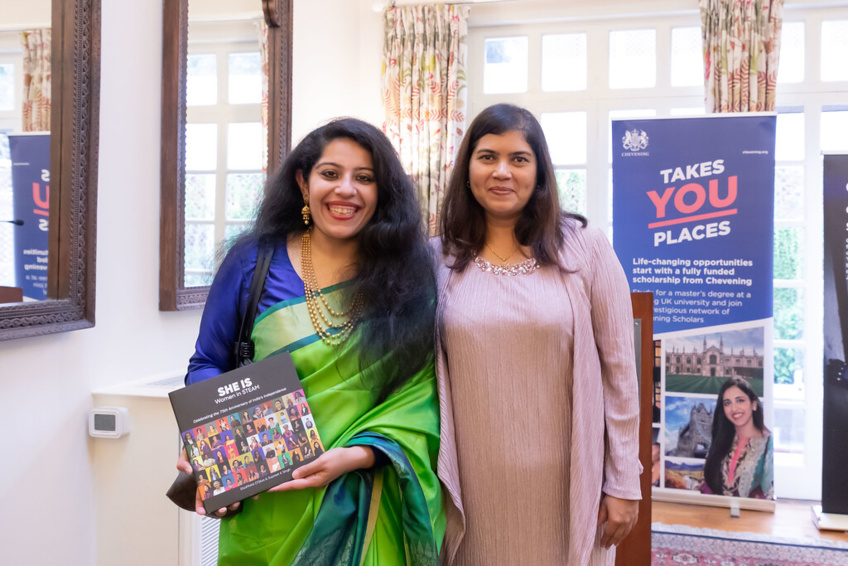 Attention all innovators and tech enthusiasts! It's time to shine a spotlight on the incredible achievements of Cadence's Women in Technology Scholarship recipients. As we celebrate our program's fifth year, we proudly present our final group of highly accomplished women who are blazing a trail in the world of technology.

These bright minds are pursuing technical degrees and have been handpicked for this prestigious scholarship based on their outstanding academic records, exemplary work in their communities, impressive leadership potential, and recommendations from esteemed professors.

We invite you to get to know our inspiring awardees, who represent the next generation of innovation, by delving into their personal journeys and experiences. And for a truly immersive experience, check out our short video where these phenomenal women share their post-graduation goals, what drives them to make a difference in the world of technology, and more.

Join us in celebrating the incredible accomplishments of our Women in Technology Scholarship recipients, as they set out to shape the future of technology and inspire generations to come.

"Since my childhood, I have been very interested in mathematics and science. My love for these subjects influenced me to study engineering. Eventually, growing up, I realized technology is essential to solving problems faster and for the future of a nation. My excitement for science, coupled with the realization of its importance, inspired me to study a technical field," said Fabia Athena from Georgia Institute of Technology.

"I wish to pursue a career in the VLSI and software industry to practice my skills that I have developed. I want to contribute to creating technologies for the present and future generations to come. I will try my best to be a good leader and a source of support for newcomers in my field," said Hena Naaz, from Georgia Institue of Technology.

"This scholarship will allow me to make sure that I find the best fit with a company that shares my values. I am excited about entering the workforce but want to ensure that I am working for a company that strives to support its employees and create an inclusive workspace," said Margaret Cox, from Elon University.

"I have always wanted to have a significant impact in my field, and I believe creating my own startup would give me a chance to make this happen. I believe pursuing a PhD will expand my knowledge while exercising teamwork and leading projects, and it will prepare me to establish my own startup after graduation. Winning this scholarship made me respect myself as a female engineer and reminded me of all the challenges I have faced and all the efforts I've put in to stand where I am now. And now, I know my duty is to encourage other women who are at the beginning of their path to have faith in their dreams and never give up," said Marziyeh Rezaei, from the University of Washington.

"The main hurdle I faced as a part of an underrepresented group is the lack of knowledge of how other women in this field are thriving. I hope they know that there are opportunities waiting for them, and with hard work, they can achieve almost anything. I will encourage them to attend various women in engineering conferences that are out there (for example, Grace Hopper, Grad-Cohort CRA-WP, Society of Women Engineers conference, IEEE WIE conference). I attended two of the above-mentioned conferences—the women I met there and the talks I attended boosted my confidence, and I learned a lot," said Nujhat Tasneem, from Georgia Institute of Technology.

"Do not be intimated by challenges or setbacks. STEM is difficult for everyone, but you are capable, and your curiosity and passion will guide you to success. There may be stages of your career where you feel especially ostracized for your race, ethnicity, gender, etc., but do not let these times be moments where you doubt yourself. Let these times be moments where you realize how ever more important you are for ensuring others do not have to feel the same way because they have you to look up to as a representative of what is possible and what is attainable for someone who looks like you," said Olivia Jo Dickinson, Duke University.

"I hope to use the scholarship to attend conferences outside of my research area, specifically toward the impact of NLP technology in day-to-day applications and use cases. I believe that this would help expand my knowledge and also inspire new ideas from adjacent fields that would be impactful in NLP. This will also enable me to understand the impact of NLP on other fields and identify cross-disciplinary future directions," said Vidhisha Balachandran, from Carnegie Mellon University.

At Cadence, we take pride in our unwavering commitment to empowering women in technology. We extend our heartfelt gratitude to everyone who submitted applications this year, as we continue our mission to provide opportunities for underrepresented groups in STEM fields.

Our warmest congratulations go out to the talented individuals who were chosen for our prestigious scholarship. These exceptional minds have impressed us with their remarkable accomplishments and exceptional potential. We're thrilled to hear how these programs have impacted their studies and we can't wait to witness where their boundless passions will lead them next.

Once again, we express our gratitude and admiration to all applicants who continue to inspire us with their pursuit of excellence in technology.

Stay tuned for more exciting scholarship opportunities from Cadence.