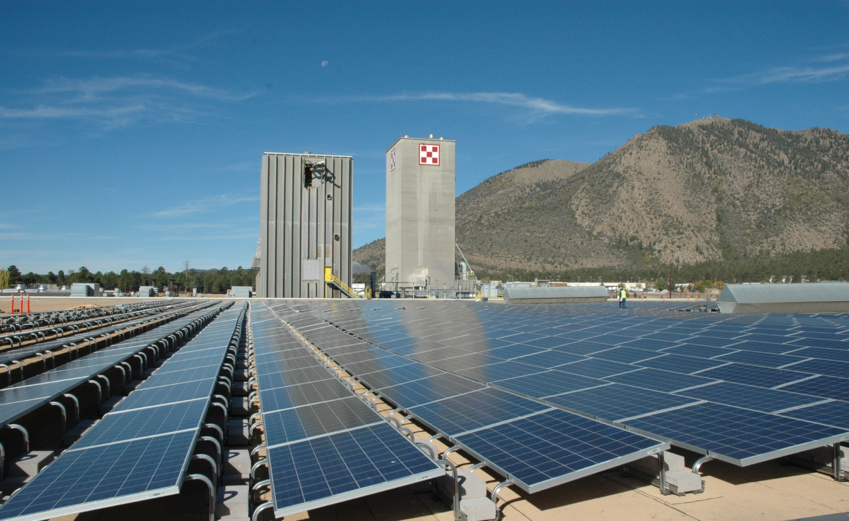 Today, leaders from Arizona's businesses, trade associations, and institutions gathered in front of the Arizona State Capitol to highlight their efforts to incorporate innovative clean energy and clean transportation solutions into their operations. Participants will showcase new technologies and call on policymakers to take action to attract more clean energy investment to the state as representatives of major Arizona employers.

The Lawn Day event, organized by Ceres in collaboration with the Arizona Technology Council and Plug In America, brings together more than 20 organizations that are leaders in unlocking clean energy investment, jobs, and innovation in Arizona. Arizona State University, Array Technologies, American Solar and Roofing, Honeywell Aerospace, Nikola, REI Co-Op, Schneider Electric, and Siemens are among the companies involved. Company representatives and state legislators will also be able to participate in a "Ride and Drive" hosted by Plug In America to learn more about the latest electric vehicle models on the market.

"States are rushing to take advantage of the Inflation Reduction Act and the once-in-a-generation economic opportunity of the clean energy transition. In Arizona, leading businesses are already at the forefront of this shift, but they are limited without strong state policy to support their efforts," said Alli Gold Roberts, senior director of state policy, Ceres.

"Businesses are making these investments to optimize their operations, reduce energy costs, and provide public health benefits to their communities. We hope their leadership inspires Arizona policymakers to take equally ambitious action."

"Supporting, investing in, and developing strong public policy initiatives for clean energy is imperative to the future of Arizona from both an environmental and economic perspective," said Steven G. Zylstra, president and CEO of the Arizona Technology Council.

"The Arizona Technology Council is proud to partner with Ceres and Plug In America in organizing Lawn Day and voicing our support for stronger state policies around attracting and growing clean energy and clean transportation solutions."

"With billions of dollars in federal funding available for Arizona clean energy investments, this is a crucial opportunity to grow Arizona's economy in a secure way and improve quality of life across the state," said Ingrid Malmgren, Plug In America's director of policy.

"Arizona's decision-makers have the opportunity today to experience the products of the growing clean energy economy in Arizona. Lawmakers are able to explore and drive electric vehicles that will drive job creation and economic development in Arizona, as well as protect Arizona's energy security and reduce transportation costs. As electric vehicle drivers find, with instant acceleration and a smooth ride, EVs are also a thrill to drive. Through state support, we hope all Arizonans have the opportunity to ride and drive electric."

In addition to demonstrating their own ambitious clean energy initiatives to legislators, the diverse group of businesses will also express their support for supportive state policies that will allow Arizona to fully capitalize on federal investments made possible by the Inflation Reduction Act and the bipartisan Infrastructure Investment and Jobs Act. The two bills provide hundreds of billions of dollars in funding for clean energy, clean transportation, and other cutting-edge technologies and practices, and they are already fueling a nationwide wave of investment in domestic clean energy manufacturing.

In Arizona, for example, Lawn Day participant Siemens is the lead investor and infrastructure partner for KORE Power, Inc.'s Buckeye battery cell manufacturing facility. Now is the time for Arizona to seize its role as a leader in the clean energy transition by enacting state policies that capitalize on this momentum.

"Siemens is committed to achieving net zero emissions in our own global operations by 2030 and is devoted to helping our customers along their own sustainability journeys. In order to make true progress, strong partnership between the public and private sectors is critical," said Jim Taylor, vice president of business solutions for Siemens USA's Grid Software division.

"Now is the time to set the foundation for critical supply chains here in the U.S. while simultaneously ensuring our transportation, energy, and manufacturing infrastructure is reliable, resilient, and efficient. Available federal funding, paired with a foundation of effective clean energy policy, will create jobs and manufacturing opportunities here in the Grand Canyon State."

State legislators, policymakers from the Governor's Office of Resiliency, and officials from the Arizona Commerce Authority and the Arizona Corporation Commission have been invited to meet and network with company representatives at the event. The "Ride and Drive" program at Lawn Day will include demonstrations of popular passenger electric vehicle models such as the Ford F-150 Lightning, Chevrolet Bolt EUV, Tesla Model 3, Rivian R1T, Kia EV6, and Hyundai Genesis G80, as well as Nikola and Lucid vehicles made in Arizona.