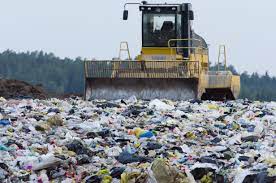 Wayne Winkler had an idea twelve years ago.

He wondered if he could "cook" garbage to recover material that would otherwise end up in landfills. To put his theory to the test, Wayne dispatched a teammate to a fast-food restaurant near Georgia-Research Pacific's & Development Center in Neenah, Wisconsin, in search of paper-laden garbage. Wayne had no idea it would be the first step toward a transformative new waste diversion technology at the time, but he had high hopes.

"They looked at us very, very strangely when we asked for their trash," laughs Wayne, now the lead technical consultant for Georgia-Pacific-owned Juno® Technology, part of Koch companies.

Back at the Georgia-Pacific R&D facility, Wayne and a coworker dumped their newly acquired garbage bags into a prototype autoclave — a massive, cylindrical pressure cooker. The unsorted garbage was sanitized and pressure-cooked in the hopes of removing moisture-resistant coatings from the restaurant's food packaging and recovering usable paper fiber.

"We strongly believed this could be a way to improve the supply of wastepaper and address the issue of sending waste to landfills," Wayne recalls.

When the team opened their prototype autoclave after the first batch of garbage was processed, they discovered that their hypothesis was correct — it worked.

"There was a huge sense of accomplishment when it worked," Wayne says. The team aspired to further develop this first-of-its-kind technology to process tons of raw garbage and recover usable paper fiber. This would not only provide Georgia-Pacific with more fiber for making recycled paper products but would also allow customers to see their products being recycled.

Landfills are an environmental issue that many communities face around the world. According to the Environmental Protection Agency, approximately half of the municipal solid waste generated in the United States each year, or more than 146 million tons, ends up in a landfill.

That is what distinguishes Juno Technology — and the JunoTM Clave — as a game changer. Georgia-new Pacific's waste and recovery technology does not make use of waste from traditional recycling streams. Instead, the process reduces the amount of solid waste sent to landfills or incinerators by converting a variety of waste streams into valuable commodities.
"We thought, why not recycle metals too?" says Christer Henriksson, Juno's president. "Why not go for the plastics that are really hard to recycle? Why not take the food that's in the garbage and turn it into biogas?"

Juno's capabilities are being expanded upon by the team. It has the ability to capture recycled paper fiber for new paper goods, biogas for energy, and reusable plastics and metal.

Juno was ready for a bigger challenge after a successful pilot in Savannah, Georgia, where the team trucked in garbage from various sources, including the Atlanta airport. Koch-owned Georgia-Pacific built the first commercial scale Juno plant in Toledo, Oregon, to validate the recycling and resource recovery program at scale. Although the Toledo facility, which will open in May 2021, will only recover paper fiber and metals, future plants will recover plastics and produce biogas from food waste.

The Toledo plant intended to process commercial waste from places such as stadiums, restaurants, and airports at first. That garbage is "safe" recycling feedstock, which means there's little chance of finding old garden hoses or leftover items from home projects, which can damage and shut down machines. But then the global pandemic struck, and there was no waste generated in public places, office buildings, and so on.

"We had planned to process residential waste in one to two year's time," says Trent Moberg, Juno's vice president of technology. "Due to the pandemic and more people working from home, not going to office buildings or sporting events, there was very little commercial waste, but an increase in residential waste. So we adjusted our capabilities quickly to transform to the needs of the community."

The Juno team was initially unsure whether they were prepared for the complexities of residential waste, and there were certainly some setbacks. The composition of commercial waste is relatively predictable, whereas residential waste is anything but.

"All it would take is for somebody to throw away a few strings of Christmas tree lights, which would then find every rag and bedsheet somebody else had discarded," Trent says. "That would make a massive ball we couldn't process."

For the first few months, the Juno team overcame every challenge with ingenuity, entrepreneurial mindsets, and teamwork as they worked to solve the Christmas light dilemma and other problems that arise from residential waste streams. They accomplished this while demonstrating that Juno can effectively handle both commercial and residential waste streams - and have a real impact in the communities where it operates.

In the year since it opened, Juno's Toledo plant has erected approximately 50% to 60% of the waste it captured — more than 33.6 thousand tons — that would otherwise have gone to three local landfills. Juno recycles paper fiber and sends it to the Georgia-Pacific mill next door, where it is combined with other recycled materials to make containerboard for corrugated boxes.

Plastics, including high-density polyethylene and polypropylene packaging, will be processed in new, larger plants. Juno's anaerobic digestion process will convert food waste, which is the single largest material to be landfilled, into biogas. Biogas has the potential to be used to fuel facilities or sold back to a utility for use on the power grid. Georgia-Pacific is currently investigating sites in the United States, Australia, and the United Kingdom, with plans to begin construction on a new site within the next 12-24 months.

With that kind of promise, it's no surprise Juno has drawn international attention even before it launched. Franz Cosenza, Juno's Toledo plant manager, has been fielding calls about Juno Technology from current and potential customers, as well as cities all over the world, since 2019.

"They had all heard of Juno and were very interested in when they could start using it or get their hands on the paper fiber," he says. "Many of them want to make 100% of their products out of Juno™ Fiber."

Juno received third-party certification for fiber chain of custody, which means there is a verified tracking process for the material validating it meets the certification requirements, and "JunoTM Fiber Certified" products can now be offered by Georgia-Olympia Pacific's box plant. Consumer products will be labelled as Juno-recovered material erted from landfills and incinerators in the future.

For the time being, the team is continually inspired by Wayne's idea to "cook" garbage into a technology that has the potential to change the world.

"I've always looked for ways to make products that are environmentally conscientious," Wayne says. "But you can't do things like Juno if you don't have leadership willing to support ideas and keep funding R&D, even when they don't know if it's going anywhere. We're lucky we work for a company interested in advancing ideas that are environmentally beneficial."