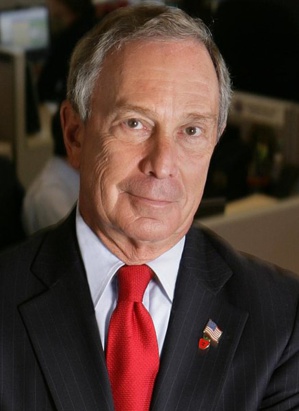 Soure: zh.wikipedia.org; (CC BY 2.0)
Dailycsr.com – 21 April 2019 – Bloomberg has come out with its "2018 Impact Report" about its sustainable corporate practices whereby demonstrating a 45% energy efficiency from 2008 figures which in turn puts an end to over "1 million metric tonnes of CO2e emissions" release in the atmosphere.
Bloomberg has an aim for turning on hundred percent renewable energy sources by the year 2025, while its recent report shows that it is in line on the target of using "35% renewable energy" by 2020. Moreover, in 2018, the company came out with "two new climate finance initiatives".
These two initiatives are complementary to its framework of "the FSB Task Force on Climate-related Financial Disclosures", in short TCFD. The coalition of the "U.S. Alliance for Sustainable Finance", in short USASF, and the "Climate Finance Leadership Initiative", in short CFLI, are made of "influential investors" who promote and scale up "innovative investment opportunities" that takes forward the transition towards "a low carbon economy".
The philanthropies of Bloomberg and Mike Bloomberg are aligned with the above mentioned efforts led by private sector, while a message from Michael R. Bloomberg, the "founder of Bloomberg LP and Bloomberg Philanthropies", read:
"We are committed to leading the way in the fight against climate change. In the coming year, we will continue to ramp up our efforts to build a stronger, more resilient global economy. The more we can accelerate investment in projects that both reduce emissions and create jobs, the more progress we can make reducing health and economic risks."
Kindly click on the link below to read his message:
https://www.bloomberg.com/impact/message-from-mike/
While, Bloomberg's Global Public Policy's vice-chair, Mary Schapiro said:
"As a result of Bloomberg's leadership, and our broad and global client base, we have made great strides in mainstreaming sustainable finance. Our success to date is really encouraging. We look forward to accelerating our efforts and collaborating with our partners to lead the financial and business community in its efforts to support the goals of the Paris Agreement."
Here are some highlights from the Impact report for 2018:
"
Operations
"Bloomberg has pledged to obtain 100% of its electricity from renewable sources by 2025. In 2018, the company received 17% of our energy from renewable sources – up from 11% in 2017.
"Bloomberg has avoided $116 million in operating costs since 2008.
"Bloomberg currently obtains energy from six on- and off-site solar and wind projects that have generated more than 38,352 megawatt hours and saved more than $1.7 million.
"Last year Bloomberg collaborated with four other companies and collectively signed a VPPA to procure a relatively small amount of renewable energy from a North Carolina solar project through this new type of aggregation deal. The project is set to provide energy from 2020 onwards.
"The company completed four LEED projects bringing the total of environmentally-certified projects to 39 by the end of 2018. One of these four was the first LEED Building Operations and Maintenance (LEED O+M) certification for existing buildings at the global headquarters in New York City.
"Products
"The number of customers using ESG data has more than tripled over the past seven years, to nearly 18,000 users.
"For the first time, ESG data is available for off-Terminal use via Bloomberg Data License reaching an even wider enterprise audience.
"Bloomberg released new and updated sustainable finance tools on the Terminal, that help clients assess and disclose carbon emissions, incorporate more environmental data sets in a mapping tool, and analyze green bond markets and a company's exposure to the Sustainable Development Goals.
"Bloomberg enhanced its news coverage of sustainable finance and leadership and created a new editorial hub called Good Business, including a weekly newsletter.
"People
"In 2018, more than 12,000 employees in 88 cities around the world dedicated over 145,000 hours of service to helping those in need, protecting the environment and strengthening our communities. Volunteer hours have almost doubled since 2014.
"Bloomberg employees responded to natural disasters by raising more than $600,000 for seven disaster relief organizations and assembled more than 40,000 emergency supply kits".
In the words of the "Global Head of Sustainable Business & Finance at Bloomberg", Curtis Ravenel:
"Ten years ago we set out to make our business more sustainable. We looked at opportunities to improve operational efficiencies, financial margins and environmental performance. Fast forward to a decade later, we are on track to meet our ambitious 2020 goals, and we have comprehensively integrated sustainable finance news, data and analytics across our products and services".
You can avail the full report at:
www.bloomberg.com/impact
References:
3blmedia.com