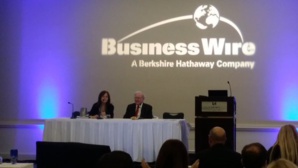 Dailycsr.com – 29 January 2016 – Business Wire will now be performing in an "exclusive partnership" with Canadian non-profit organisation BioTalent Canada. The latter serves bio-economy of Canada by mitigating its "human resource needs".
The design of the partnership caters to the need of amplifying the news across the entire public sector of bio-economy across Canada and to the world. Moreover, the "Partnership Plus" Programme of BioTalent Canada adds more value into it which also aligns itself with Business Wire's role of a "global leader in press release", equipped with the task of reaching out to the people.
In fact, the Chief Executive Officer and also the President at BioTalent Canada, Rob Henderson, stated:
"Broadcasting investment news, hiring strategies and executive appointments are key elements of branding for any strategic HR program. Our partnership with Business Wire will allow our stakeholders and partners to tell their stories using Business Wire's state of the art communications technology."
While, Business Wire's International Business Strategy's executive vice president, Michael Becker commented:
"The biotechnology industry is a significant contributor to Canada's economy and Business Wire is pleased to help this sector increase its media visibility".
According to the agreement that took place between both the organisations, the partners of BioTalent Canada will be able purchase the distribution services of Business Wire's press release at "special pricing packages". Moreover, they will also have access to places of "bio-economy news" that will be exclusively released on the website of BioTalent Canada by Business Wire. Meanwhile Becker added:
"Business Wire possesses strong global relationships within the biotechnology community and this partnership is a great opportunity to participate actively in Canada's bio-economy. BioTalent Canada provides an incredible service and we are proud to distribute their news and the news of its partners over our network".
Business Wire also writes:
"BioTalent Canada is the HR partner of Canada's bio-economy. As an HR expert and national non-profit organization, BioTalent Canada focuses on building partnerships and skills for Canada's bio-economy to ensure the industry has access to job-ready people. Through projects, research, and product development, BioTalent Canada connects employers with job seekers, delivers human resource information, and skills development tools so the industry can focus on strengthening Canada's biotech business."
References:
http://www.businesswire.com/