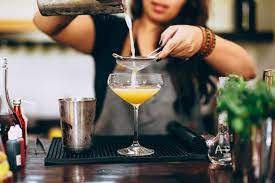 Bacardi, a family-owned spirits company, is relaunching Shake Your Future in Paris to give young adults in the capital the life-changing opportunity to train as a professional bartender while also assisting the city's bars and restaurants in finding the trained staff they desperately require.
14 young adults will begin the 10-week program, which Bacardi runs in collaboration with the European Bartender School, this week. Students are taught the art of bartending and cocktail-making and gain valuable work experience with Bacardi partners, which this year include The Hoxton and Groupe Bertrand. Graduates are awarded an internationally recognized diploma as well as permanent employment opportunities in the industry, allowing them to transform their lives and build a brighter future.
The initiative is being held for the third time in Paris, and the first time since the global pandemic forced the hospitality industry to close its doors. The lockdown may have ended, but its effects are still being felt today, with bars and restaurants experiencing severe shortages of trained staff.
'Through Shake Your Future, Bacardi is proactively helping our friends in the hospitality community by bringing in new talent and promoting hospitality as an exciting and rewarding career path,' said Camille Durand, HR Director for Bacardi in France, Italy, and Greece.
Students starting the program in Paris next week will be following in the footsteps of Shake Your Future graduates from the previous two editions, who are now working in bars and restaurants throughout the capital and beyond.
'We are proud to be supporting Shake Your Future by offering at least one of this year's students a four-week internship in one of our bars as part of their diploma program,' said Tim Abenhaim, Restaurant & Bars Manager at The Hoxton Paris. It's a win-win situation. There is no better way for a student to gain valuable experience than behind one of The Hoxton's busy bars, where we pride ourselves on the quality of our drinks and the quality of service we provide to every guest. And, like many other bars and restaurants around the world, we are always looking for new talent with the skills and passion to commit to an amazing career in hospitality.'
As in previous years, Bacardi has collaborated with Pôle Emploi, France's unemployment office, to identify the best candidates for the Shake Your Future program.
Shake Your Future was born in Paris in 2018, when Bacardi launched an initiative to combat youth unemployment on the doorstep of its former office in the Parisian suburb of Saint-Ouen. In recognition of the program's success, Bacardi received the "TOP 10 des Recruteurs de Diversité Award in 2019" from the Ministère de L'économie et des Finances.
Shake Your Future has been replicated in countries across Europe, most recently in South Africa and India, and has assisted hundreds of Shake Your Future graduates who are now enjoying a new life behind the bar.
By 2030, Bacardi hopes to have introduced 10,000 new bartenders into the hospitality industry worldwide.
Shake Your Future is part of Bacardi's larger Good Spirited ESG program. The program is just one of the many ways Bacardi gives back to the community. Shake Your Future has more information.
To know more, click
here