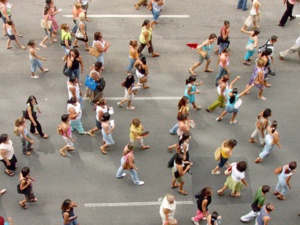 Dailycsr.com – 21 December 2018 – The Chief Executive as well as the President of BSP, Aron Cramer expressed his happiness as BSR collaborated with "the OECD and Danone" to introduce the "Business Platform for Inclusive Growth (B4IG)", while extending an open invitation for the leading corporate bodies to be a part of the said initiative.

The "annual WEF Global Risk Index" has been consistently highlighting the "social and economic inequalities" that are on the rise as the "top systemic global risks". Furthermore, these inequalities seems to be one of the triggering factors of "joining terrorist groups" while on the health front, the same has been found to cause "higher rates of cancer".

A growth that bridges these gaps of equalities can be termed as inclusive as oppose to the ones that "exacerbates" the same. According to the definition of "Organization for Economic Cooperation and Development (OECD)", inclusive growth is the "economic growth that creates opportunity for all segments of the population and distributes the dividends of increased prosperity, both in monetary and non-monetary terms, fairly across society."

While, Cramer also added that:
"Deloitte found in a recent survey that a majority of business leaders are supportive of changing their corporate practices to foster more inclusive growth. They believe this can feed innovation, strengthen resilience, and contribute overall to their competitiveness".

Nevertheless, businesses alone can't drive inclusive growth, as governments too have a critical role in "driving inclusive growth" and both these sectors need to collaborate in their efforts. And Cramer said:
"To date, however, there has been no comprehensive effort to link business practice and government policies on inclusive growth".

With this very aim of reducing the existent gap by aligning the government and business initiatives on this endeavour, B4IG works. Below are given a list of actions that will be taken by B4IG as mentioned by Cramer, as he writes that it will:
Identify complementary business actions and public policies that promote inclusive growth and opportunities for greater synergies.
Explore how the private sector and governments can work together to tackle the structural issues hindering inclusive growth (for example, gender equality, corporate governance, business dynamism and productivity, digitalization, and the future of work).
Strengthen the corporate and political "business case" for inclusive growth and identify systemic factors (regulation, enabling environments, incentives) that encourage or discourage inclusive business practices.
Advocate for companies and governments to adopt best practices and policies, including through case studies and best practice dissemination.

Moreover, the said platform will also act like an incubator to nurture new ideas and policies regarding "corporate governance models, business metrics and accounting standards, programs and activities, and public-private partnerships" through a "web portal, workshops, and high-level events". Here is another list of aims that B4IG has set forward to achieve. In Cramer's words, the platform aims to:
Co-create a set of strategic priority areas on inclusive growth where the private sector and governments can act together.
Strengthen impact and competitive advantage for businesses that implement inclusive growth practices through enabling or supporting public policy environments.
Lay the foundation for a global agenda on inclusive growth that will enable business and government to take action on mutually agreed priority areas, similar to what has been achieved through the climate movement.
Pioneering companies and stakeholder are invited to join in with "BSR, the OECD, and Danone" in this "ambitious program" that will be carried out over the period of "next three years". For further information, kindly visit:
https://www.bsr.org/en/hello
References:
3blmedia.com