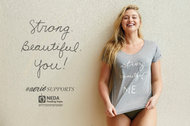 Dailycsr.com – 29 February 2016 – Aerie takes its commitment of "promoting body-positivity" one more step forward, whereby the "intimate apparel brand" has come up with a "cause marketing campaign" for supporting the "29th annual National Eating Disorders Awareness Week" organised by the "National Eating Disorders Association".
Aerie has stood out as a "leader for change" in the fashion industry within its "two-year" functioning, whereby to mark its second anniversary, Aerie had launched "its #AerieREAL campaign". During the said campaign, Aerie committed to "body-positivity" through its "marketing materials" and advertisements as it pledged on to "no longer retouch models in any way".
The campaign launched in support of NEDA week is named "Strong, Beautiful, ME campaign" which will donate hundred percent of its sales for NEDA cause, while the collection sports "a limited edition t-shirt" which is available only through online.
Furthermore, all Aerie stores will have "a gift-with-donation bracelet" besides "a round-up donation option for customers", while the interim C.E.O of NEDA, Claire Mysko said:
"We are thrilled to have ongoing support from Aerie, and we thank the company for its socially responsible campaigns. Walking into stores that are promoting a healthy body image is a huge step for helping all women develop high self-esteem. Body-negativity is so prevalent in our society, but Aerie is taking a stand and making an impressive impact."
Additionally, Aerie will stick on to its commitments made towards NEDA and continue to be "the presenting sponsor of the non-profit's ongoing national walks awareness program" called "NEDA Walk. Save a Life".
The latter supports local communities and arranges funds for their educational and advocacy programmes. Aerie has also receives the "first NEDA Inspires Seal of Approval" which honours the company for representing its "social responsibility" in various fields like editorial content, image and advertising. In fact, Aerie is to be awarded the "NEDA's Corporate Leadership award" in gala which will be held at New York in the beginning of April 2016.
The Global Brand President of Aerie, Jennifer Foyle, commented:
"We are excited to continue our partnership with NEDA for the second year in a row. Our work with NEDA continues to allow us to provide information and resources to our customers helping to reduce the stigma often associated with eating disorders, as well as reinforce our commitment to #AerieREAL and authentic body positivity."
References:
http://www.businesswire.com/