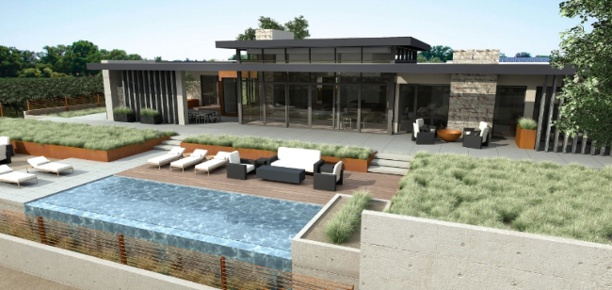 Dailycsr.com – 08 December 2015 – American Modular Systems brings to the River Vine Vineyards locality the "new Gen7 Concept Home". In fact, the production work of such concept is already being executed at the site.
The area chosen for this project sits on a "50-acre working vineyard" located "along the banks of the Mokelumne River Watershed in Lodi Wine Country". The River Vine housing project has been designed to receive "LEED Platinum certification" whereby the company of AMS "claims" that "River Vine will be one of most advanced, high-end prefabricated residences ever constructed". Through this project ANS plans to combine sustainable designing with smart home facilities in order to give the field of construction a new dimension.
Therefore, the buildings will be built with "zero net energy" concept integrating renewable energy sources, "environmentally-friendly materials" along with "leading-edge" home products so as to create a "livable, functional and energy-independent" home. In terms of renewable energy, the project will utilise "solar and geothermal technologies" which will replace the energy consumed during the course of construction.
Keeping convenience in mind, River Vine homes will be equipped with "latest smart home technology", while sustainable approach will be maintained through management of "renewable energy systems" for "greater efficiency. Moreover, be it an appliance or any electrical component for that matter, every electronic or electrical device or system will be connected to a centralized network that could be controlled "from a single touchpoint".
AMS has entered into partnership with "forward-thinking companies" that will support and provide materials for building River Vine residential complex so as to create "an 'inspirational' building that paves the way for more sustainable building and living". The following are the partners of River Vine project, although more are "expected to join" in this sustainable venture:
"AEP Span, ASC Steel Deck, Solatube, USG, Heliodyne, Tech Lighting, ELEMENT, Aquatherm, Crossville, Inc. and Ductmate Industries.
The homes at River Vine will be fabricated as "concept" homes whereby AMS will introduce "market-ready ideas" in collaboration with "progressive building practices" to create "an optimized environment" for everyday living. Moreover, the same will be a living test of a new experiment, which will have the possibility of replicating in the future.
In the words of Mike Hower:
"Smart at sustainable home technologie are proliferating nationwide. Last year, Honda unveiled its net zero energy 'Smart Home' on the UC Davis campus. The company said the building, which includes a charging facility for a Honda Fit EV and is intended to demonstrate Honda's vision for zero-carbon living and personal mobility, will on average generate more electricity from on-site renewable energy than it receives from the local utility".
References:
http://www.sustainablebrands.com/