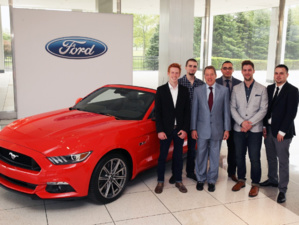 Dailycsr.com – 14 October 2015 – The William Clay Ford Automotive Design Scholarship chooses two of its winners, Rami Khoury and Konnor Bartels, who are among the first five people to receive the grant prize. The said scholarship is a tribute to innovative designing passion of Mr. Ford, where it honours his legacy.
Rami Khoury is a student of Art Center College of Design, situated in California's Pasadena. Khoury explains:
"I look at the automobile as a rolling sculpture on wheels. All of these shapes and forms that move on the street, and yet carry people to their destinations. It has both form and function."
On the other hand, Konnor Bartels studies at the "Cleveland Institute of Art". He always had a knack of designing automobiles and instilling life into them. In fact, he liked doing this kind of activities, he admits:
"Design fuels my passion and desire to create. I am excited by the collaboration, the creation, the story and the user."
The "William Clay Ford Automotive Design Scholarship" is a "$1 million" project which is dedicated as a tribute to the outstanding contributions of "William Clay Ford" made in the field of "automotive design". Consequently, the scholarship scheme is to introduce a scholarship amount of "$10,000" to "five outstanding college sophomores or juniors" on an annual basis for the coming two decades.
This is a new philanthropic venture initiated by the Ford Motor Company Fund, a branch of Ford Motor Company. It has been launched for accelerating the commitments of Ford towards "helping young people reach their potential".
As per the report:
"Ford Fund is investing more than $1.7 million in new and ongoing global educational programs, part of more than $8 million annually in scholarships, grants and other initiatives that offer promising students the opportunity to follow their career dreams and hone essential workplace skills. Ford Fund also is focused on helping vulnerable students stay in school and graduate, keeping them on track for future success".
Besides, contributing towards "signature education programs" like "Ford Blue Oval Network, Ford Next Generation Learning and Ford Freedom Award", the Ford Fund's investments in the educational front is also sponsoring numerous scholarships like:
Alan Mulally Engineering Scholarship
Ford College Alliance
Ford Driving Dreams
Ford College Community Challenge
Heart Behind the Oval
Moreover, Henry Ford had a strong belief that education alone can lead one to success. In fact, he himself, founded schools, developed various "learning opportunities" whereby helping people and their communities through multiple generations. Following in the footsteps of the past, Ford continues to help in educational ventures in order to make a better world with the help of "innovative programs and strategic investments" that benefit the coming generation of leaders and innovators around the world. The president of "Ford Motor Company Fund and Community Services", Jim Vella said:
"The tools have changed dramatically since Henry Ford's day but the goals are the same—teach young people the essential skills they will need to succeed in the workplace. Education is a critical ingredient in determining individual and community economic success, and Ford Fund is always looking ahead for new ways to help."
References:
www.fordblueovalnetwork.org