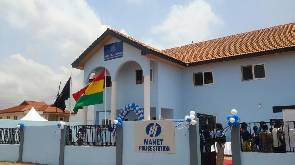 Dailycsr.com – 07 October 2015 – The famous "commercial and residential" estate developers of Ghana, Manet Properties, seems to lead the way through its Corporate Social Responsibility, whereby it created a "modern Police Station" for the "Ghana Police Service". The said investment has been estimated at "US$200,000".
The said police station is located at the "Spintex Road in Accra" wherein the facility building will house the "Baatsona Divisional Headquarters" along with the "Okpoi-Gonno District Headquarters". Moreover, the establishment will also "serve residents in and around" the location.
The managing director of Manet Group, Mr Martin Beeko spoke at the inaugural ceremony of the modern facility building, wherein he mentioned that:
"...the decision to embark on the project was in line with the company's corporate social responsibility; realising that there was no police station in the neighborhood, which was a hindrance to the security of residents".
On the other hand, Ahmed Alhassan, who is the "Inspector General of Police" informed while "commissioning the facility" that the police department were facing issues regarding accommodating "adequate office and residential(s)". In the midst these troubles, the gesture of "Manet Properties and partners" were more than welcome by the police department.
According to him, as the pollution boom and urbanisation are growing hand in hand, the government alone cannot deal with the increasing requirements of establishing "new police stations". He urges the private sectors to invest in a "Public Private Partnership" which alone can "salvage the situation".
In his appeal, the Inspector General of Police addressed the "Ghana Real Estate Development Association" along with "other benevolent individuals, corporate bodies and nongovernmental organisations" to lend their hands in supporting the police, whereby they can collectively overcome the "emergence of crime across the country".
Manet builds "bespoke building structures", while executing its building plans the company aims at reflecting the "unique attributes of its clients" depending from which section they come from "commercial or residential". Every structure designed by the company is catered uniquely as to "suit the unique tastes of its occupants".
As mentioned earlier, Manet is among the leading construction companies of "Ghana's building industry" which brings the two seeming opposites, "affordability and luxury", under the same roof. The company's belief that "finer things in life are not limited to the wealthy" is a tangible notion to the worker, to the extent that their services and products alike reflect the same.
The properties of Manet are recognised for their quality which weaves the cost-effectiveness with innovations. The company's catalogue includes "reputable building projects" some of which have been completed and others come under the category of work in progress. Some of the project titles are:
"Manet Cottage (Baatsona), Manet Cottage Annex (Baatsona), Manet Com 20 (Tema)and Manet Ville (East Airport)","Manet Gardens (Baatsona), Manet Court (East Airport), Manet Palms (East Legon), Manet Paradise (Ada) and Manet Towers (Airport City)".
References:
http://www.ghanaweb.com